Smile bigger and longer with the confidence of a healthy mouth.
With new advancements in treatment procedures and technology, improving your oral health has never been easier, such as through teeth whitening, dental implants to replace missing teeth, pain-free local anesthesia, porcelain fillings, and same-day porcelain crowns. We are committed to excelling in treatment with the newest techniques and materials and to educating our patients about them. Throughout the course of her dental career, Dr. Kathy has continually expanded her knowledge base of dentistry to provide her patients with the best dental experience, as recognized by the Academy of General Dentistry's Mastership Award.

After completing your dental treatment, we will schedule you in our continuing care program and pre-schedule your periodic exam to maintain your oral health and prevent oral health problems. These appointments are designed to prevent small oral health problems from becoming big and expensive problems. Though easily overlooked or postponed, preventative dentistry is the best method of treatment and most often the least expensive method. If you think you may be overdue for your periodic exam, please call us and we will verify it for you. Improving your oral health and longevity is our goal.

Treatment for your oral health may require referral to a specialist, such as an oral surgeon, periodontist, or endodontist. Should you require these services, we will recommend the many fine specialists from our local community and communicate with them in working to improve your oral health.
Our Technology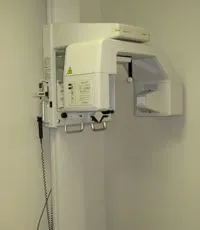 Our panoramic X-ray machine takes a full image of your teeth, so we can see the big picture.
The Cerac Mill allows us to create custom porcelain crowns in only one office visit. Avoid the waiting period and get a new tooth today!