A Beautiful Practice For All Your Dental Needs

Facility

We are proud to provide a state-of-the-art facility for the highest quality dental care available. It is one of our top priorities to protect the well-being of our valued patients. For this reason, our office meets and surpasses all OSHA (Occupational Safety and Health Administration) and CDC (Center for Disease Control) standards. We are confident that you will feel right at home in our office as we welcome all patients as if they were family.

We offer several methods of payment to help suit your financial needs.
Payment in full is expected at the time of service, including any copay. If you have insurance benefits, Dr. Kathy will submit your claim as a complimentary service. Any insurance benefits available will be remitted to the subscriber.

To pay for dental care, Dr. Kathy offers four methods:
Cash or Check . If you pay for services in full on or before the date of service with a cash or check, our practice offers a courtesy of 5% off of fees that are $500 and up. . A fee will be incurred for any bounced checks.
Credit Card . You can pay with Visa, Mastercard, or Discover, but the 5% courtesy does not apply to credit cards.
Pre-determined Benefits and Copay . Pre-determined benefits are estimated and approximated costs that are subject to change during treatment or according to your plan benefit rules. If your coverage and benefits for planned treatment are pre-determined with your insurance provider, then you can remit the assignment of benefits to Chippewa Creek Dental and pay your copay. Patients are financially responsible for any fees not paid by their insurer. The 5% courtesy does not apply to copays.
Care Credit . Care credit provides lines of credit for health care. Prior to your treatment, you must apply and be enrolled in the Care Credit program for dental care. Payments through Care Credit are extended for up to 5 years. For more information, speak with the business staff.
Office staff Anna is available to help you finance your care. We will be sensitive to your financial circumstances.
Insurance benefits can be confusing, but we can help.
Often provided by an employer, dental insurance is a wonderful benefit arranged by a contract between the employer and an insurance agency. This contract will have various limitations on the benefits payable for you.

With thousands of dental benefit plans, coverage varies greatly from plan to plan. Each carrier uses a percentage to calculate your coverage allowance, or the usual and customary allowance.

Information about your benefit plan, such as rule changes, eligibility requirements, maximums, waiting periods, and deductibles, is sent directly to you from your insurance company or is available through your employer's human resources department. Office staff does not have this information. If the information applies to you or your family, please bring a copy to discuss with the office staff, who are available to help you.

Our professional care is provided to you and your family, not the insurance company. Our knowledgeable staff will do their best to help you understand your dental insurance benefits.
Delta Dental Premier Plans and insurance Plans associated with Connections
Chippewa Creek is registered as a preferred provider for Delta Dental Premier plans and dental plans associated with Connections and is considered "in-network". Most other dental plans have benefits for "out-of-network" services, on which we will accept the assignment of benefits after confirming your eligibility.

Periodically, Chippewa Creek Dental staff reviews other plans for network provider participation. To date, other plans do not allow for quality and personalized dental care that promotes oral health longevity. Our experiences indicate that routine dental services for in- and out-of-network plans can have very small differences in copays.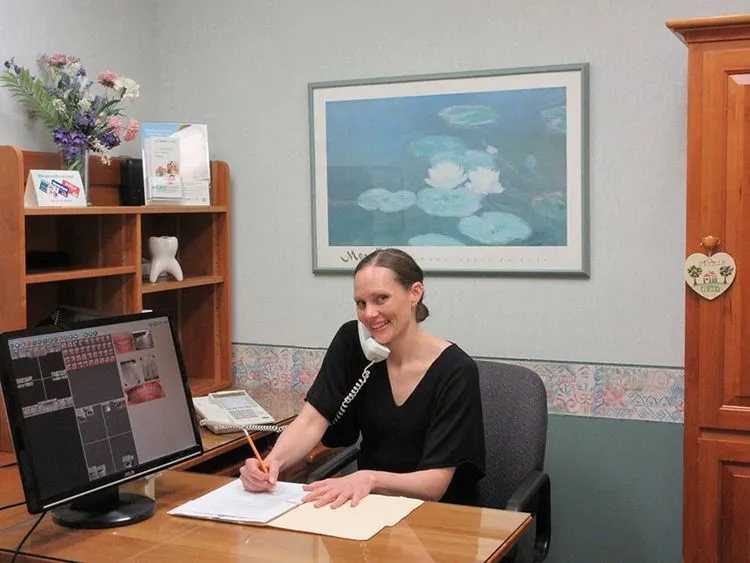 Talk to us!
We value feedback from our patients at any time. Our business staff will periodically verify your address, phone numbers, and current e-mail address to assist in the most timely and effective communication. Your e-mail address will not be used for any other purpose or shared with any other organization. You will receive text or e-mail reminders about your upcoming appointments and have the option to confirm your appointment at that time.
A current and up-to-date medical history is important to your oral health care. Please notify us if there has been a change in your medical history, such as serious illness, hospitalization, changes in medication, or allergies. If you change primary care physicians, please notify us with your new physician's name and phone number to ensure the best care for you.
Cancellation

If you are unable to keep an appointment, we ask that you kindly provide us with at least 24 hours notice. We ask for this advance notice so that we can offer this appointment to another patient. A fee may be charged if a patient does not show up for an appointment without sufficient notice.
Every staff member works as a team and takes great pride in providing quality care to patients. Please call us at (330)769-2918 or find us online, Facebook and Instagram as we look forward to speaking with you.
We would like to take this opportunity to thank you for choosing our practice for your dental care.